Le Centre d'Apprentissage Parallèle de Montréal (CAP) is honoured to present Alana Barrell's first solo exhibition of portraits and animals, called "Wild Characters". This series forms part of the ambitious MENTAL HEALTH AMBASSADORS project, which is made possible through the support of l'Agence de la santé and the Fondation du Grand Montréal.
The project encourages people with psychological challenges to develop their artistic work under the best possible conditions, using creativity to work through disturbing emotions and move towards well-being. On view from March 7 to 31, 2017 at the CAP Gallery (4865 Saint-Laurent) this exhibition is open to the public and will feature Alana's work from the last five years.
VERNISSAGE
March 7, 2017 from 5 to 8pm at Le CAP
Le CAP – 4865, boul. Saint-Laurent Montréal, QC H2T 1R6
EXHIBITION
March 7 through 31, 2017
Monday to Thursday from 9am to 4:30pm // Fridays between 10am and 3:30pm
Le CAP – 4865, boul. Saint-Laurent Montréal, QC H2T 1R6

ABOUT ALANA BARRELL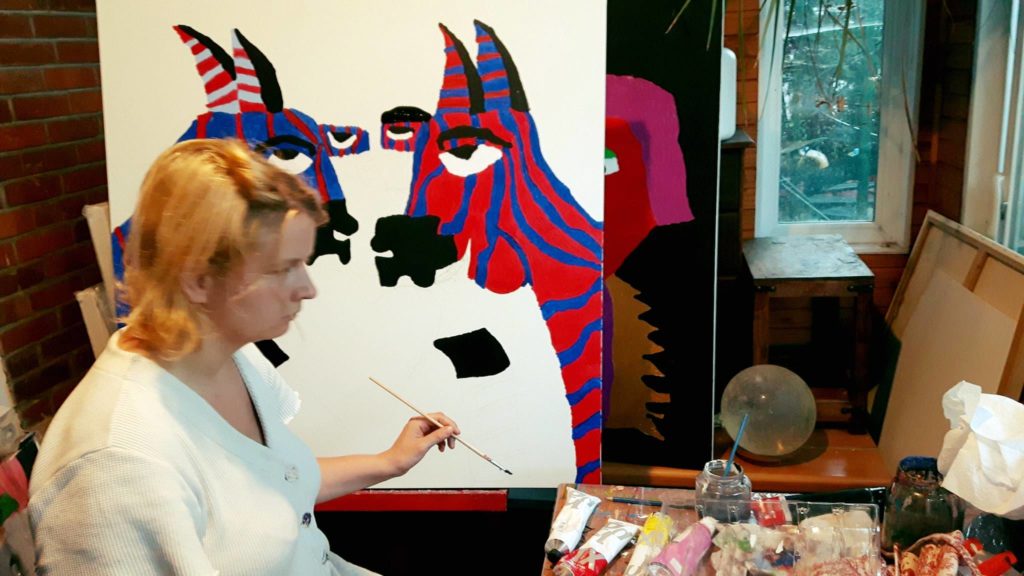 Born in South Africa in 1983, Alana Barrell grew up there as well as in Canada, Singapore, Ethiopia, and Brunei. Diagnosed with severe paranoid schizophrenia at the age of 15, she could no longer attend school and faced an uneven and lifelong road to recovery from multiple episodes. Alana returned to Montreal in 2005, and thanks to treatment at the Early Psychosis and Schizophrenia Spectrum Program at the MUHC and social integration at Forward House, she regained her footing.
She studied for several years at the Atelier D'Artisanat Centre-Ville where she learned stained glass, weaving, fabric painting, and more. In 2012, she entered the CAP program to hone her artistic talents, and received further instruction in sculpture, oil painting, and mixed media among other techniques. She has presented her work in multiple group exhibits of naïve art, however the MENTAL HEALTH AMBASSADORS series is her first solo outing. Aside from her mother and sister, Alana's local family also includes her dogs, Sadie and Merlot, and cat, Perla. She enjoys baking and knitting in her spare time.
ABOUT LE CAP
Le CAP's mission is to support people with emotional and psychological difficulties in order to facilitate their growth process for social and/or professional integration. To do this, it offers opportunities to realize themselves through creative, therapeutic, educational and productive activities.
Ateliersducap.org | Facebook | Twitter